Port Information Sidebar
The Port Information Sidebar shows detailed port information such as vessels that have called at the port, vessels that are expected to call at the port, and recent port news.
You can search for a specific port in the Search box at the top left, click on the port in Ports Mode or click on the port name elsewhere in the Cockpit app.
You can hide the sidebar at any time by clicking on the

button on the top right-hand side of the screen.

Unlike the Vessel Information Sidebar, where it is possible to have several vessels open at once, you can only view one port at a time in the Port Information Sidebar.
Click on Ports by country

to view a list of all ports grouped by country name.
My Ports List
You can use the My Ports list to save a list of favourite ports and quickly navigate to them.
Click on

to view the list of your ports.
If a port is not yet on your list, you can click on

to add it to your list.
To remove a port that is already on your list, click on

.
Dashboard
Click on the dashboard button
to see the weather information for the port and all the vessels which currently moored there.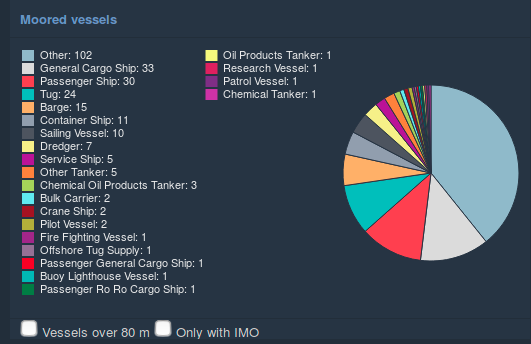 Weather Forecast

Displays the detailed weather forecast until the end of the following day.
Arrived vessels over the last 7 days

Shows how many vessels have visited the port over the last 7 days.
Locate On Map
Click on the position icon

to center the map on the selected port.
Expected Vessels
This view shows a list of vessels that are expected to arrive at the selected port. Clicking on the vessel name will open the Vessel Information Sidebar for this vessel.
Some additional features:
The table can be sorted and by clicking on the two-arrows icon at the top of each column. By default, the table is sorted by ETA, with the soonest arrivals appearing first.
Search and filter for specific criteria by typing into the text box at the top of each column eg.
Download your current view in CSV form by clicking on the download icon at the top right corner of the table.
Moored Vessels

This link opens 4 information tables, all of which can be sorted or filtered using the same criteria as the Expected Vessels above.
The default is , which shows a list of vessels that are currently moored within the port's boundaries.
shows a list of vessels which have either recently entered or departed the port.
shows a list of vessels that have recently called at the port.
shows a list of berths within the port, which you can click on to see the vessels that have visited these specific berths: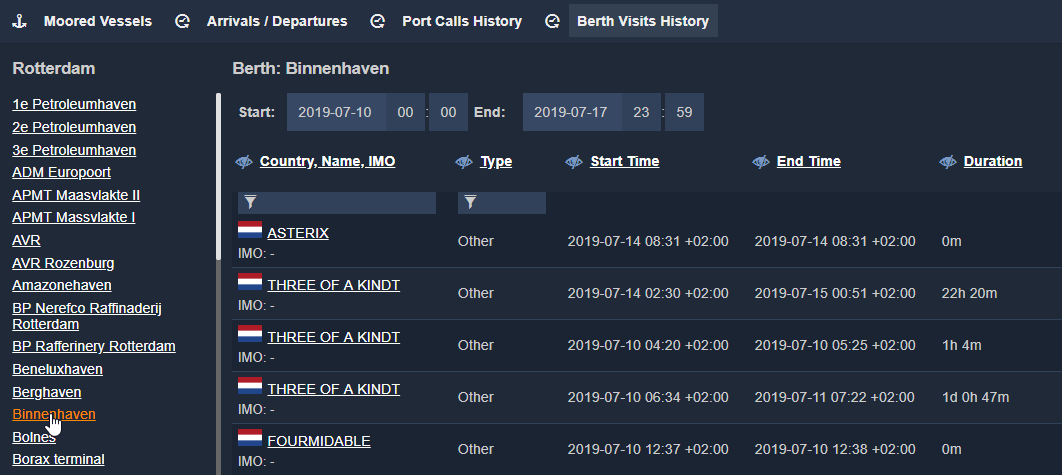 Port News

This view displays the latest news from the port.